Welcome to the City of Brownton!
---
NOTICE TO RESIDENTS… Open House Infrastructure Meeting… Click on News for more information.
***REMINDERS***
SNOWBIRD ORDINANCE goes into effect November 1, 2016. No parking of any vehicle(s) shall be allowed on any street from November 1, 2016 through March 31, 2017 between the hours of 2:00 a.m. to 6:00 a.m. regardless of snow emergency. This includes but not limited to cars, trucks, boats, campers recreational vehicles, etc.
2017 ANIMAL TAGS are now available at the city office! You must license your pet(s) by January 1, 2017. Please refer to the City of Brownton Ordinance #91 for full details. The ordinance is listed on website under City policies "Dog and Cat Owners".
---
---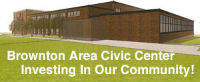 Click to find out more information!
---
To view the city services, policies and rental facilities, click the headlines below.
---
- Natural Gas Information
- Connection & Conversion Info
- Building Permit Form
- Natural Gas Application Form
- Utility Service Application
- Rebate Applications
- Appliance Recycling Brochure
- Utility Billing Policy
- Garbage Service
- Recycling / Calendar
- Yard Waste Site
- City of Brownton Fee Schedule
- Dog & Cat Owners (pdf)
- Snow Removal
- Grass Clippings
- Fixing Up Your Home?

- Brownton Community Center
- Lions Park Shelter
- Civic Center Gym

- Summer Enrichment 2016
- Summer Recreation Registration
- Boys Summer Rec Schedule
- Girls Summer Rec Schedule